Minister's Awards

2016 Minister's Awards for Excellence
in Public Library Service
Congratulations to the winners of the 2016 Minister's Awards for Excellence in Public Library Service. The awards were presented by Honourable Danielle Larivee, Minister of Municipal Affairs on April 29, 2016.
The winners were:
City of St. Albert Library Board for their Reading Buddies Program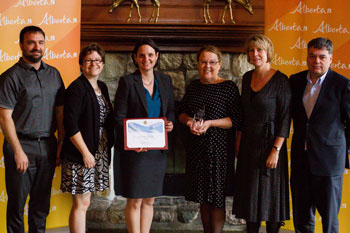 Left to Right: Tim Osborne, City Councillor; Janice Marschner, Board Vice-Chair; Honourable Danielle Larivee, Minister, Municipal Affairs; Barb Moreau, Children's Services Coordinator; Heather Dolman, Public Services Manager; Peter Bailey, Director
Reading Buddies is one of the Library's programs and initiatives designed to cultivate a love of books and reading and to support early literacy skills. It is a program that offers children in Grades 1-3 who are facing some reading difficulties the opportunity to practice their reading skills in a fun, encouraging, and safe atmosphere. Children are paired with members of the community, their Reading Buddies, who volunteer their time on a weekly basis to listen to the children read, to share a book and to play literacy games.
---
City of Camrose Library Board for their Book Bike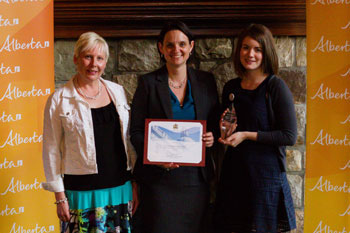 Left to right: Elizabeth Luck, Board Chair; Honourable Danielle Larivee, Minister, Municipal Affairs; Kelly Higgins, Book Bike Program
Alberta's first "Book Bike" launched June 2015 after much hard work and anticipation. The project was funded by a crowdfunding campaign, local businesses, and library patrons. The Book Bike is a small mobile library fitted onto a custom made cargo tricycle that creates off-site access to library programs and resources for the community. The Book Bike has visited playgrounds, parks, seniors' homes, small businesses, City Hall, summer camps, University of Alberta Augustana Faculty, and elementary and junior high schools in Camrose.
---
Town of High River Library Board for their Family Literacy Kits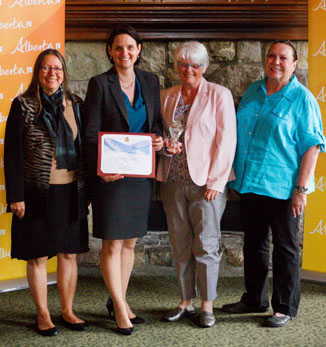 Left to Right: Joyce Brown, Program Coordinator; Honourable Danielle Larivee, Minister, Municipal Affairs;
Deb Gardiner, Head Librarian; Lynne Thornton, Board Member
The High River Library creates Family Literacy Kits for the patrons to take home. These kits include books, toys, and cds. What makes these kits unique is they include worksheets and activities to help the parents learn how to extend teachable moments. Depending on the theme of the kit, the activities may also involve crafts, cooking, math, and letter and sound recognition.
---
Regional Municipality of Wood Buffalo Library Board for their Total Aboriginal Cultural Corner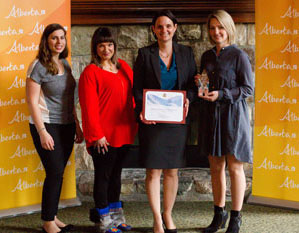 Left to Right: Monica Domingues, Board Chair; Nicole Greville, Community Services Librarian; Honourable Danielle Larivee, Minister, Municipal Affairs; Melissa Flett, Acting Director
The Total Aboriginal Cultural Corner was first proposed after a community meeting in 2011. The Cultural Corner is a centrally-located space, devoted to Aboriginal cultures and collections. The Corner houses their growing First Nation, Métis and Inuit (FNMI) collection, and has been designated with an in-house designed label.
---
The YOU Libraries winner is:
Town of Swan Hills Library Board for their L2D (Learn to Drive) program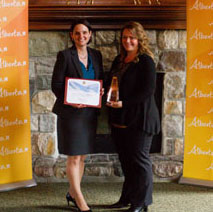 Left to Right: Honourable Danielle Larivee, Minister, Municipal Affairs and Nancy Keough, Library Manager
The L2D (learn to drive) program and kit allows libraries to host an interactive program that helps patrons attain their class seven learners' licence. It was developed by the library manager in partnership with a regional traffic safety consultant.
---
The rules can be found here.
---
The Idea: identify and share great service
In 2009, a committee of MLAs recommended, in the Framework for the Future report on the future of Alberta's libraries, that the Government of Alberta "designate public libraries that house innovative programs, services or technologies as centres of excellence", and "package and share their knowledge and expertise."
How to designate a centre of excellence? An award from our Minister responsible for public library services seemed like the biggest endorsement we could give. An awards program is a way to identify, acknowledge and encourage best practices, and to capture and communicate ideas that can be replicated by libraries across Alberta.