Overview of Bill 27, Floodway Development Regulation Consultation
Bill 27, the Flood Recovery and Reconstruction Act, enacted in December 2013, amends the Municipal Government Act (MGA) providing for:
regulation making powers for controlling, regulating or prohibiting any use or development in a floodway; and
a provision to exempt floodway development in municipalities with significant development already in a floodway such as Fort McMurray and Drumheller.
These amendments support government efforts to rebuild safer and stronger communities. A regulation will set out limitations on development in a floodway needed to ensure we rebuild in a manner that limits the potential for future flood damage.
A two-phased stakeholder engagement took place between May and October, 2014.
In the first phase of the consultation a Task Force was established. Municipal Affairs invited representation from the Alberta Urban Municipalities Association, the Alberta Association of Municipal Districts and Counties, the Urban Development Institute, the cities of Calgary and Edmonton, the towns of Drumheller, Canmore, High River and the Regional Municipality of Wood Buffalo.
In the second phase, input gathered from the Task Force was taken to a broader audience of municipalities with identified flood hazard areas for additional comments during a one day symposium.
As part of Phase II, input from the Task Force on the proposed regulation (Task Force Discussion Paper) was posted on the Municipal Affairs website with the ability for community members and other interested parties to provide comments on what had been proposed. Community members and interested parties who wished to provide input were encouraged to work with their municipality to share their perspectives and had the opportunity to provide their written comments directly to Municipal Affairs through a dedicated email link.
The consultation on the proposed Floodway Development Regulation is now complete. Please check this website periodically for updates regarding the status of the regulation.

Frequently Asked Questions and Answers regarding the Floodway Development Regulation
---
Question - What are the changes to the Municipal Government Act (MGA) enacted by Bill 27: Flood Recovery and Reconstruction Act that will be addressed in the proposed Floodway Development Regulation?
Answer
• Regulation making powers to allow for the creation of a Floodway Development Regulation which will control, regulate or prohibit use or development of land that is located in a floodway and define authorized uses in a floodway.
• An exemption provision for floodway development that will account for the special circumstances of municipalities with significant development already in a floodway such as Fort McMurray and Drumheller.
---
Question - What is a floodway?
Answer
A floodway is identified through a flood hazard identification study in accordance with the Flood Hazard Identification Program Guideline published by the Department of Environment and Sustainable Resource Development (ESRD)
The Flood Hazard Identification Program Guideline identifies flood hazard as the area within which flooding will most likely occur during a flood.
Within the flood hazard area there are two classifications of land:
-- floodway: during a flood, land within the floodway will typically experience flooding of one-metre depth or greater with velocities of one metre per second or faster. Typically the floodway includes river channels and adjacent overbank areas.
-- flood fringe: flood fringe is the land along the edges of the flood hazard area that would likely experience relatively shallow water (less than one metre deep) during a flood event, with lower velocities (less than 1m/s).

---
Question - Why does the government want to restrict future development in floodways?
Answer
The floodway is that portion of land in a flood hazard area where flows are deepest, fastest and most destructive. The floodway typically includes the main channel of the river and a portion of the adjacent overbank area.
Floodways represent an ongoing risk to people who wish to build there.
Restricting and regulating development in floodways will help limit property damage and risks to public safety posed by future floods.

---
Question - Why is development in the flood fringe not restricted as well?
Answer
Mitigation measures have proven effective in flood fringe areas because the depth and flow of floods is much lower than in a floodway, where the velocity of flow and depth of flooding makes mitigation nearly impossible.
Development in the flood fringe can obstruct the flow without significantly increasing water levels upstream or downstream.
The flood fringe can be developed as long as appropriate measures are taken to protect life and property.
This does not mean that flood damage will not occur depending on the intensity of the flood event.

---
Question - Will the provisions of the Regulation be in effect all across Alberta?
Answer
Upon coming into force the regulation will apply to those municipalities where there are flood hazard areas mapped by ESRD.
Fort McMurray and Drumheller will be exempted, from some or all of these restrictions.

---
Question - Why does the government need to be able to make exceptions for some municipalities that want to develop in a floodway?
Answer
In some cases, it would be impractical, impossible or economically detrimental for some municipalities, such as in Drumheller or Fort McMurray, to restrict floodway development.
Work is underway with Drumheller and Fort McMurray to address the risk of flooding through other types of mitigation measures.
This provision will allow the government to vary how the legislation and proposed regulation will apply in these unique situations.

---
Question - Will government allow existing structures to be rebuilt in a floodway if they are intended for the same use as the original property?
Answer
Yes, this approach honours the investment and choices made by current owners of properties in a floodway, regardless of whether they have been affected by a disaster.
The regulation is intended to control ongoing use of developed lands in a floodway by ensuring that redevelopment is limited to structures similar to existing uses.

---
Question - Will the government allow new structures such as homes or businesses to be built in a floodway?
No, the floodway must remain free of any new structures that would obstruct the river flow during a flood.
Obstructions such as buildings can be damaged during a flood event and could also make flood conditions worse in both the upstream and downstream river flows.
The most effective form of mitigation to protect the health and safety of people is to keep people away from the flood water rather than attempting to keep the flood water away from people.

---
Question - Why is the government amending the MGA and creating a Floodway Development Regulation to restrict future developments in floodways before a review of the MGA has been completed?
Answer
Development in floodways poses extreme risks to human life, property, and to the economy of Alberta, as was experienced during the flooding events of 2013.
To mitigate future risks from extreme flooding, immediate action is necessary to prevent further inappropriate development on land within a floodway.

---
Question - What types of future development are being considered as authorized uses in the floodway?
Answer
Input from stakeholders will help shape the list of acceptable land uses; however, authorized uses that are being considered in the floodway are uses with low flood damage potential. Such uses:
- do not affect flood elevations;
- do not increase the public safety risk of a flood; and
- do not create the potential for high-cost flood damages.

Such uses might include but are not necessarily limited to the following:
- agricultural activities;
- public or private infrastructures (roads, utilities, bridges, etc.);
- water and waste water treatment plants intake and outfalls;
- private and public recreational uses, natural areas and environmental reserves;
- residential or commercial uses not requiring buildings (lawns, gardens, play areas, parking areas etc.)

---
Question - What is the current role of municipalities with respect to approval of development in flood hazard areas?
Answer
The authority for land use planning and development rests with the municipality. Part 17 of the MGA sets out the specific municipal authority for planning including the authority to prepare and adopt plans and bylaws, receive and approve subdivision and development permit applications and hear most appeals of planning decisions.
Municipalities are not currently required to address flood hazard lands in their land use bylaw. As a result, bylaws may be absent or inconsistent in scope and application across the province.
The regulation will ensure a consistent minimum level of land use control in flood hazard areas is applied across the province. Municipalities may choose to apply higher restrictions.

---
Question - Once this regulation comes into force what will be required of municipalities to comply with the floodway restrictions when approving development?
Answer
Municipalities will need to ensure their statutory plans such as new area structure plans and the land use bylaw are consistent with these provisions where applicable.
Municipalities may not approve an application for subdivision in a floodway, based on the maps prepared by the Department of Environment and Sustainable Resource Development (ESRD), if the application is inconsistent with authorized uses identified for floodways in the Regulation.
Municipalities may not issue a development permit for any use or development of vacant land in a floodway, based on the maps prepared by ESRD, if the proposed development is inconsistent with authorized uses identified for floodways in the Regulation.

---
Question - How does ESRD create flood hazard maps that define the floodway?
Answer
The Flood Hazard Identification Program provides information to assist communities in the appropriate development of areas that are susceptible to being impacted by the design flood event.
The design flood event has a one per cent chance of occurring annually (this is also known as the 1:100 year flood event). Even though a flood may have a relatively low chance of occurring in any one year, it is possible for several large flood events to occur within a few years of each other.
The components of a flood hazard study include a hydrological assessment, topographic data collection, hydraulic modeling and transfer of model data to a flood hazard map.
The model uses the design flow from the hydrological assessment and collected river topography data to calculate water levels throughout the study area. The floodway area is defined by the water depth and velocity from the model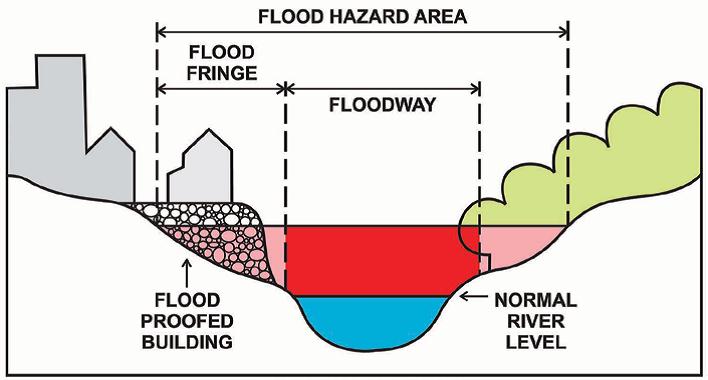 The final step in the flood hazard study is to take the information from the model and display it on a map. The map provides visual information about the location of the floodway.